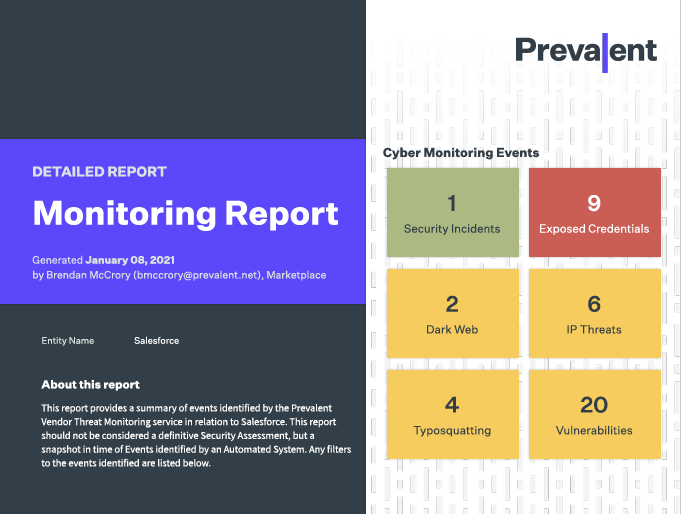 Register Here for Your Free Risk Monitoring Report!
Register here for a complimentary Prevalent Vendor Threat Monitor (VTM) report for your organization or a third party of your choice. You'll get an "outside-in" view of potential exposures and threats gleaned from hundreds of thousands of public and private sources.

The report includes a consolidated numerical risk score, an A-F financial score, plus high/medium/low scores for cyber and reputational risks. You'll also receive lists of business and cyber events that inform your score.
Cyber Intelligence
Reveal cyber incidents from 1,500+ criminal forums; thousands of onion pages, 80+ dark web special access forums; 65+ threat feeds; and 50+ paste sites for leaked credentials—as well as several security communities, code repositories, and vulnerability databases.
Business Updates
Access insights from over 530,000 public and private sources of reputational information. Uncover legal actions and sanctions, executive leadership changes, politically exposed persons (PEPs), adverse media, state-owned enterprises, OFAC violations, and other indicators of potential problems.
Financial Insights
Tap into financial information from a network of millions of businesses. Access 5 years of organizational changes and financial performance, including turnover, profit & loss, shareholder funds, etc.
*Free financial insights are available only for companies headquartered in the United States, United Kingdom, Belgium, Denmark, France, Germany, Ireland, Japan, Luxembourg, Mexico, Netherlands, Norway, or Sweden. If you request a report for a company in another country, it will still include cyber and business intelligence.

How to Get Started
Enter your contact information below.
We will immediately send you an email confirmation with a link to a sample report.
In about a week, we'll email you the report on your organization or your designated third party.
Thank you!
Please check your inbox for an email confirmation. This will contain a link to a sample report to review while you wait your custom report. If you don't see anything within a few minutes, please check your spam folder and ensure that emails from prevalent.net are safelisted.
Oops! Your browser is preventing this registration form from loading. Please try one of the following: