What Is the NIST AI Risk Management Framework?
In response to growing enterprise usage of artificial intelligence (AI) systems – and a corresponding lack of guidance on how to manage their risks – the U.S. National Institute of Standards and Technology (NIST) introduced the AI Risk Management Framework (AI RMF) in January 2023. According to NIST, the goal of the AI RMF is to, "offer a resource to the organizations designing, developing, deploying, or using AI systems to help manage the many risks of AI and promote trustworthy and responsible development and use of AI systems." The AI RMF is a voluntary framework and can be applied across any company, industry or geography.
The RMF is divided into two parts. Part 1 includes an overview of risks and characteristics of what NIST refers to as "trustworthy AI systems." Part 2 describes four functions to help organizations address the risks of AI systems: Govern, Map, Measure and Manage. The illustration below reviews the four functions.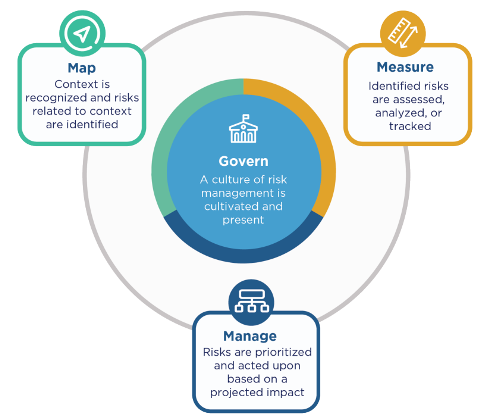 The functions in the AI risk management framework. Courtesy: NIST

How Does the NIST AI Risk Management Framework Apply to Third Party Risk Management?
It is important for organizations to consider risk management principles to minimize the potential negative impacts of AI systems, such as hallucination, data privacy, and threats to civil rights. This consideration also extends to the use of third-party AI systems or third parties' use of AI systems. Potential risks of third-party misuse of AI include:
Security vulnerabilities in the AI application itself. Without the proper governance and safeguards in place, your organization could be exposed to system or data compromise.
Lack of transparency in methodologies or measurements of AI risk. Deficiencies in measurement and reporting could result in underestimating the impact of potential AI risks.
AI security policies inconsistent with other existing risk management procedures. Inconsistency results in complicated and time intensive audits which could introduce potential negative legal or compliance outcomes.
According to NIST, the RMF will help organizations overcome these potential risks.
Key Third-Party Risk Management Considerations in the NIST AI Risk Management Framework
The NIST AI RMF breaks down its four core functions into 19 categories and 72 subcategories that define specific actions and outcomes. NIST offers a handy playbook that further explains the actions.
The table below reviews the four functions and select categories in the framework and suggests considerations to address potential third-party AI risks.
NOTE: This is a summary table. For a full examination of the NIST AI Risk Management Framework, download the full version and engage your organization's internal audit, legal, IT, security and vendor management teams.
Next Steps: Align Third-Party AI Controls with Your TPRM Program
Prevalent can help your organization improve not only its own AI governance, but also how it governs third-party AI risks. Specifically, we can help you:
Leveraging the NIST AI Risk Management Framework in your TPRM program will help your organization establish the controls and accountability over third-party AI usage. For more on how Prevalent can help simplify this process, request a demo today.