Each stage of a third party's lifecycle presents its own set of unique challenges in managing risks. Onboarding requires immediate insights to get ahead of potential risks before you start doing business with partners. Assessments demand continuous status updates to ensure you have the most impactful data to make decisions. Managing and reporting involves working with the right contacts to mitigate risks. That's why it is essential to ensure your third-party risk management solution does more than simply assess and monitor. And with the latest release of our Prevalent Third-Party Risk Management Platform, we deepen our capabilities at every stage.
Below is a summary of the newest enhancements available in version 3.23 of the Prevalent Third-Party Risk Management Platform.

Gain Immediate Risk Insights by Enabling Monitoring During Vendor Onboarding
Onboarding new third parties can be a time-consuming process that requires many complex steps involving multiple stakeholders. In previous releases, Prevalent has significantly reduced the time required to onboard new vendors by automating the intake process.
Prevalent Platform v3.23 further streamlines the process by enabling the monitoring of cyber, business and financial intelligence when an entity is first created. With this simple one-click capability, organizations gain immediate insights into potential vendor risks through continuous monitoring instead of waiting until onboarding processes are complete.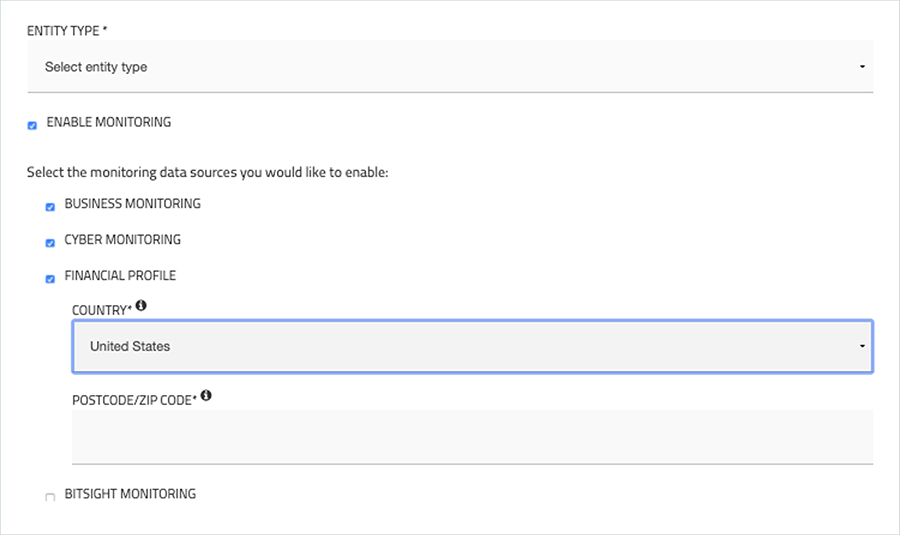 When adding an entity, you are now able to immediately enable monitoring where appropriate.
Improve Assessment Visibility with Entity Lifecycle Tracking

Knowing at which stage a third party is in its assessment lifecycle ensures that teams can effectively report on their status. However, many third-party risk management solutions offer only rigid out-of-the-box status definitions which may not align to an organization's unique business processes.
Prevalent Platform v3.23 overcomes this one-size-fits-all approach, introducing automated entity lifecycle tracking through statuses and workflow, helping customers to define and order vendor status – for example assessment scheduled, remediation planned, etc. – according to their organization's unique requirements. This enhancement also enables them to report on metrics such as how long a third party is in a particular status, and to look at the trends such as the average amount of time required for review.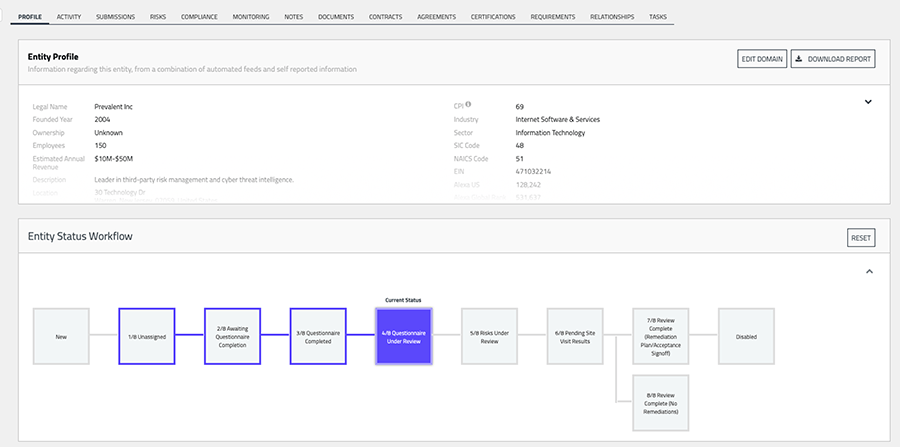 Visually track the progress of third parties and entities through their unique lifecycle through statuses.
Centrally Manage Third-Party Certifications
During the assessment stage of the vendor lifecycle, many organizations require that their third parties be certified against certain frameworks or requirements and submit evidence accordingly. However, managing these certifications can be complex if the documentation is not centrally tracked or if the certifications are submitted with standard evidence.
Prevalent Platform v3.23 introduces a new tab where customers can centrally view outstanding and submitted certifications and create tasks and risk items, such as impending expiration. With this enhancement, customers can centrally manage their third parties' certifications, improving visibility into expirations and potential risks.


Mandate evidence of certifications, and track expiry through tasks and automated risks.
Better Understand Vendor Contacts with Enhanced Look-Up
At the center of maintaining an accurate vendor inventory is ensuring that you have the right contacts at each third-party entity. However, since contacts come and go, and ownership over vendors can vary in your own organization, maintain such a list can be time-consuming.
Prevalent Platform v3.23 provides a solution to this ongoing challenge with enhanced vendor contact look-up. Built on market-leading third-party technology, customers can simply click on the global directory on the entity page, see a list of potential contacts, and select a new primary contact. Prevalent will then send an automated email to the new contact inviting them into the Platform. With this enhancement, organizations ensure they have the right vendor contacts to address assessment and remediation requirements.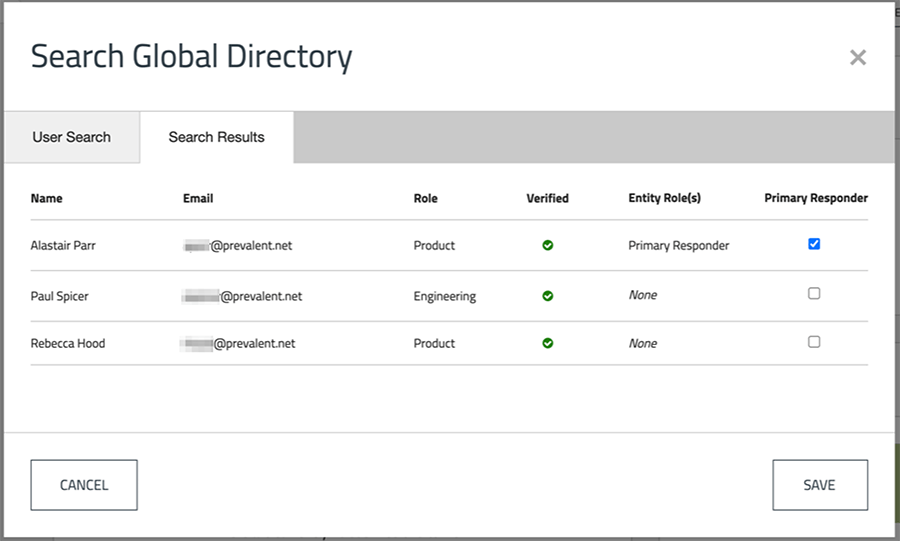 Search millions of potential points of contact based on roles within third parties to identify assessment recipients.
Next Steps
Be sure to check out the Prevalent Customer Portal to read the release notes or view a new features demo video and learn more about additional features not listed here. If you're new to Prevalent, request a demo to discuss how we can help you get ahead of third-party risk at every stage of the vendor lifecycle.