Effectively managing contracts with vendors is a key consideration for every organization. A well-defined vendor contract management process enables you to streamline contract negotiations, ensure the consistency of terms between similar vendors and suppliers, manage document versioning and storage, and measure SLAs and performance.
Vendor contract management processes also help to ensure that contracts are structured appropriately for regulatory compliance and data security. For example, compliance and audit teams need to understand if personal health information (PHI) or personally identifiable information (PII) is shared with the vendor. Laws such as HIPAA can hold companies liable for non-compliance on the part of third parties, fourth parties, and Nth parties. From a cybersecurity standpoint, security personnel must consider the vendor's internal security controls and be aware of associated risks throughout the span of the contract's lifecycle.
It's also important to recognize that, even if a third party meets contract requirements, they can still introduce business, security and compliance risks to the organization. This post explores common challenges in managing agreements with third parties and introduces a new way to look at contracts in terms of the third-party risk lifecycle.
What Is the Vendor Contract Lifecycle?
Vendor contract lifecycle management is the process of managing third-party vendor contracts from origination to termination. A well-defined vendor contract management process enables companies to:

Reconcile edits from multiple internal stakeholders during contract negotiations

Update redlined copies and maintain version control with vendors

Coordinate and review terms with procurement, legal, and finance teams

Ensure terms and SLAs are consistent across like vendors

Review SLAs to ensure the vendor is meeting its commitments

Prepare reports for management on the risk posed by certain contracts

Monitor existing contract terms for renewal or termination
Every step of the contract lifecycle – from sourcing and selection, to onboarding, performance monitoring, and offboarding – should entail specific and actionable practices that mitigate the risks of working with third parties.
Vendor Contract Management Best Practices
Below are best practices for managing vendor contracts in the context of the broader third-party risk lifecycle.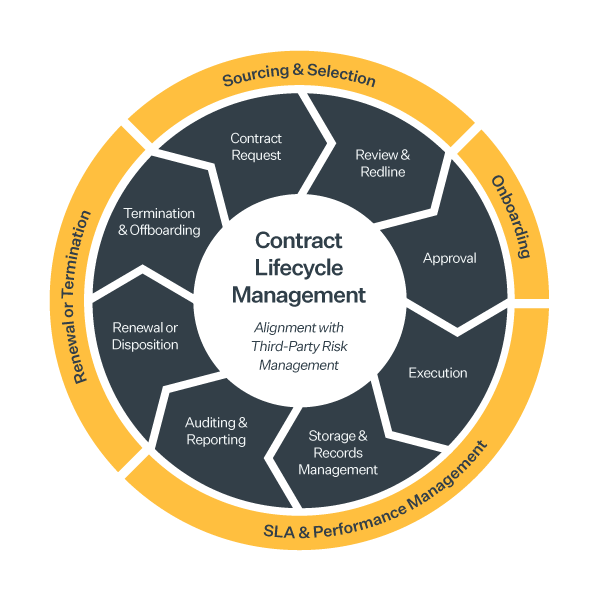 Stages of the vendor contract management lifecycle in the context of the third-party risk management (TPRM) lifecycle.

Step 1 - Vendor Contracts & Sourcing and Selection
Contract Request - Standardize the intake process by using forms and templates. This reduces the time required to onboard a contract and improves consistency between contracts. You can leverage built-in forms and templates, or use an API to onboard existing contracts into a centralized contract lifecycle management solution.
Review and Redline - Throughout the redlining process, upload and share contract revisions into a central vendor contract management solution and utilize version control tracking so that document changes can be reviewed offline. Role-based access control will enable multiple internal and external parties to view contracts and tasks assigned to them. Clearly tracked changes ensure that teams are always working on the correct document version.

Step 2 - Vendor Contracts & Onboarding
Approval - To facilitate final contract approvals prior to onboarding, it's important to develop customizable workflows based on contract type to automate the progression of contracts throughout their lifecycle. This is a similar process to the workflow used to progress a vendor through due diligence.

Step 3 - Vendor Contracts & SLA Performance Monitoring
Execution - Centrally track all vendor contracts and contract attributes such as type, start and end dates, value, reminders, and status. Then, assign views to important details based on role to increase visibility. This capability is in line with using a central risk register to track third-party security risks.
At the execution stage, it's also critical to assign and track tasks with automated reminders and overdue notices against contracts. This is similar to how you would triage and track the remediation of third-party risks. Ensure clear, trackable ownership of all tasks through centralized reporting.
Role-based permissions should enable allocation of duties, access to contracts and ready/write/modify access. A granular permissions mode means users only see components relevant to them; for example, extending risk and contract reporting to senior executives.
Storage and Records Management - Securely share and store contract documentation internally or externally with role-based permissions. Integrated third-party risk management and vendor contract management solutions provide unified storage and management of contracts and supporting documents and evidence by vendor. This centralized model for document and records management provides a single repository for all vendor-related content.
Auditing and Reporting - Auditable document logs should be available to provide a history of access and changes to contracts and supporting documentation for compliance reporting purposes.

Step 4 - Vendor Contract Renewal or Termination
Renewal or Disposition - At this step, you should make sure to maintain communications with all parties by centralizing vendor contract discussions. Distribute email notifications to participants when additional comments are added. Comments should be shared externally with vendors or marked for internal discussion only. At this step it's also important to track how the vendor is performing against their contractual obligations as noted in step 3 above. Having a centralized repository of contract attributes adds important justification for renewal (or termination) discussions. Lastly, make sure to track open tasks to closure based on contract next-step discussions.
Termination and Offboarding – If you have decided not to renew a vendor contract, leverage workflow to track open tasks or items to closure. This can include ensuring that data is destroyed, physical and logical access is revoked, and that final obligations and payments are made.

Vendor Contract Management and Vendor Risk
Vendor risk is rarely considered in current solutions for contract management. Dedicated contract lifecycle management (CLM) solutions help with the mechanics of managing organizational policies and contract terms, but they largely ignore vendor risk. Similarly, procurement platforms focus on the mechanics of purchasing. They help simplify purchase requisitions, budgeting, and ordering. While they often include vendor onboarding functionality, they rarely address vendor risk.
Businesses need solutions that perform core CLM functions in the context of vendor risk. The proliferation of ESG, data privacy, and cybersecurity requirements continues to add complexity in managing vendor contracts across thousands of companies while managing compliance and data flows. Risk is present in every vendor agreement, so aligning the vendor risk lifecycle with the vendor contract lifecycle is critical.
Key Outcomes from Unifying Vendor Contract Management and Vendor Risk Management
Unifying vendor contract management with vendor risk management reduces cost, complexity, and risk. Aligning vendor contract management with third-party risk management is an important investment to make for the long-term success and security of your organization.
Aligning contracts with vendor risk management best practices also helps to ensure that your contracts remain in compliance with core regulations such as HIPAA and GDPR. Non-compliance can be extremely damaging, and a contractor's failure to perform can have legal, financial and reputational consequences for the contracting organization.
A Central Repository for All Vendor Contracts
A centralized repository for vendor attributes and controls, documents, and contract version control simplifies contract management and minimizes disruptions. This will improve the contracting experience to encourage business owner participation.
Automated Vendor Contract Workflow and Tracking
Workflow and tracking capabilities enable teams to determine the status of a contract at any point in the vendor risk lifecycle. Additionally, these capabilities help pinpoint bottlenecks and simplify the process of managing and chasing contracts, dates, and attributes.
Structure Vendor Contract Management to Eliminate Manual Processes
Storing paper files in drawers or maintaining multiple versions of documents on shared drives is unscalable. Likewise, investigating each vendor with unique questionnaires leaves organizations vulnerable to inconsistent vendor requirements and controls.
Multiple Internal Teams Unified by a Single Solution
Combining contract management and vendor risk management ensures that procurement, legal, and security teams agree on policies and work together to maintain reliable, efficient, and secure vendors.

Automate Your Vendor Contract Management Program
Prevalent Contract Essentials centralizes the distribution, discussion, retention, and review of vendor contracts, and leverages workflow to automate the contract lifecycle from onboarding to offboarding. Our approach ensures that procurement and legal teams have a single solution to manage vendor contracts, simplify management and review, and reduce cost and risk. With Contract Essentials:
Procurement teams shorten purchasing cycles while ensuring vendors adhere to contractual requirements.

Legal teams save time by automating cumbersome and time-consuming process to keep contracts updated and stakeholders informed.

Risk management teams centralize all vendor and supplier risk in a single solution.
Contract Essentials enables organizations to manage contracts with the same structure and discipline as other enterprise risks. Combined with the Prevalent Third-Party Risk Management Platform, organizations gain a centralized solution to reduce the risk of a business disruption from a risk or contract failure.

Next Steps
To learn more, download our white paper, Contract Lifecycle Management and Third-Party Risk, or request a demo today.