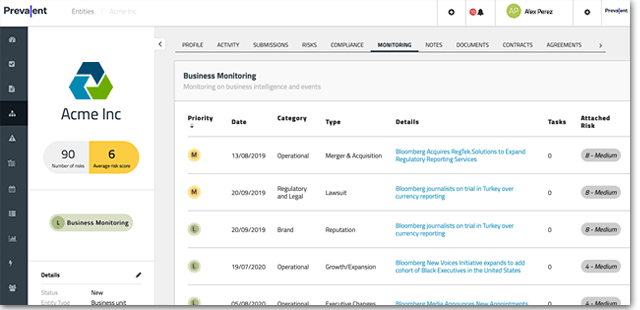 Get Your Complimentary Edition of Prevalent Vendor Threat Monitor

With today's reality of breaches and supply chain disruptions, understanding potential vendor risk is critical to protecting your organization's data and ensuring compliance.
That's why we're offering you complimentary access to business and financial risk intelligence on 20 vendors with Prevalent Vendor Threat Monitor (VTM). This is a free product to monitor vendors with no time limit, no credit card required, and no need to talk to a sales rep.
Register here to get:
Continuous business and financial risk monitoring of 10 vendors you select + the top 10 vendors covered by Prevalent
Centralized risk scores, news, and analysis from 530,000+ sources – it's like a free D&B!
Insights into reputational, legal, regulatory, and financial issues that signal vendor risks
Clear and concise vendor risk reporting that you can share with your management team
*Monitoring is available for companies in the United States, United Kingdom, Belgium, Denmark, France, Ireland, Japan, Luxembourg, Mexico, Netherlands, Norway, and Sweden only.

Getting started is easy:

Confirm your contact info here
We'll send a link to a form for selecting your vendors (company name, URL, and postal code)
We'll send a link to access your customized risk monitoring dashboard
Thank You!
Please check your inbox for an email confirmation. This will contain a link to a page where you will select the vendors you would like to monitor. If you don't see anything within a few minutes, please check your spam folder and ensure that emails from prevalent.net are safelisted.
Oops! Your browser is preventing this registration form from loading. Please try one of the following: