With the release of Platform v3.20 and Vendor Threat Monitor v2.3, Prevalent introduced market-first financial and credit monitoring to natively-integrated complement existing continuous cyber and business event monitoring, adding important new risk visibility for procurement teams. Version 3.22 of the Prevalent Third-Party Risk Management Platform expands this financial monitoring capability with the addition of deep reporting and more. Below is a summary of this and other updates available in version 3.22.
Financial Feed Enhancements and CPI Scoring Increases the Scope of Monitoring Data
Platform v3.22 features enhancements to the financial feed from Prevalent Vendor Threat Monitor, including:
Additional financial information in the Financial profile on the Monitoring tab including insights into historical credit ratings, ownership, shareholders, probability of default, and more.
Corruption Perception Index (CPI) scores of company head office countries.
New PDF downloadable financial report that includes all available financial information for the entity.
This expanded vendor financial reporting and CPI monitoring capability adds more business context to vendor risk analysis. It is especially beneficial to procurement and sourcing professionals looking to gain insights into a potential vendor's viability and ethics.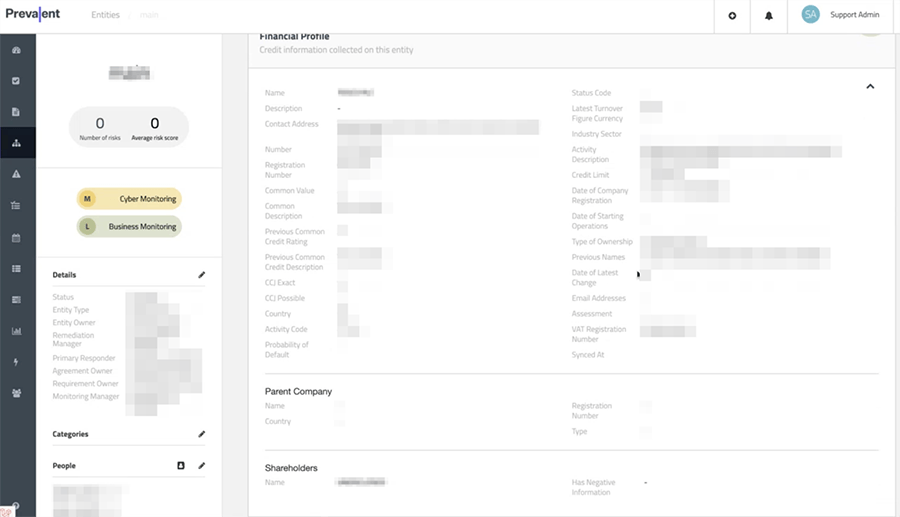 Financial information now includes insights into historical credit ratings, ownership, shareholders, probability of default, and more.
Platform v3.22 also features the following additional enhancements:

My Risks: Responders can now create tasks for themselves or upload evidence over time as remediation progresses. This accelerates risk remediation through automated workflow and improves the audit trail when addressing risks with vendors.
Reporting: Advanced reporting now includes detailed Platform analytics to provide insights into how users are interacting with tasks, risks, agreements, and assessment validation.
SIG-Lite 2021: The latest Standard Information Gathering questionnaire from Shared Assessments is now available in the platform, with Prevalent leading the way in enriching the content with relationship mapping, additional context, and risk scoring.
Next Steps
Be sure to check out the What's New features document or visit the Prevalent Customer Portal to read the release notes or view a new features demo video and learn more about additional features not listed here. If you're new to Prevalent, request a demo to discuss how we can help you get ahead of third-party risk.