Assessing Data Privacy Risks Can Be Tough
You don't have to look far to find examples of breaches where the attackers gained access to private customer data through vendors, suppliers or other third parties. In just about every case, the compromised organization is subject to remediation costs, fines, and increased regulatory scrutiny for mishandling PII/PHI data.
While privacy compliance programs are typically well-established in large enterprises, PII/PHI breaches can still have devastating business impacts on small- to mid-sizes organizations. Unfortunately, legal, privacy, and risk management professionals at smaller organizations often find themselves short on the resources necessary to get their jobs done.
Data privacy solutions can help under-resourced teams identify and protect sensitive PII/PHI, however the wrong solution can be a liability. For instance, if your privacy tool is deployed in a silo separate from other risk management solutions, then your ability to identify sensitive data and assess related risks can be severely limited. On the other hand, it's also easy to get in over your head by selecting a complex and costly solution that is bloated with features that you simply don't need.
That's why we created Privacy Jump Start.
Unify Data Privacy and Security Assessments with Privacy Jump Start
Prevalent Privacy Jump Start enables legal, privacy and risk management teams to collaboratively discover sensitive PII/PHI data, conduct privacy impact assessments, and remediate associated risks. This is backed with reports that map identified risks to privacy compliance requirements. All for $9,995.
Privacy Jump Start provides an affordable way to unify your privacy and risk management strategies, improve visibility and efficiency, and reduce risk. With Jump Start, you can:
Speed the discovery of privacy data with automated inherent risk assessments
Map data flows between internal teams and third parties
Collect and analyze privacy controls data in conjunction with other security controls assessments
Measure compliance against privacy regulations with a variety of report templates
Understand data privacy exposures and get best-practice remediation guidance
By unifying privacy impact assessments with your broader risk management practices, Privacy Jump Start will simplify risk assessment and remediation across your organization.

Accelerate Privacy Data Discovery and Mapping
"Where is our sensitive data located?" is a common question with a complex answer. Many organizations look to automated data governance or enterprise data discovery tools to inventory and categorize PII/PHI existing in file shares, collaboration platforms, emails, cloud services, apps, and more. While these solutions are broad – covering a wide range of devices, services, storage formats and applications – none are omnipotent.
Prevalent helps by offering a targeted data discovery questionnaire. The questionnaire can be sent internally to application and process owners to identify if they store sensitive data and understand its scope and volume. The outcome is better visibility.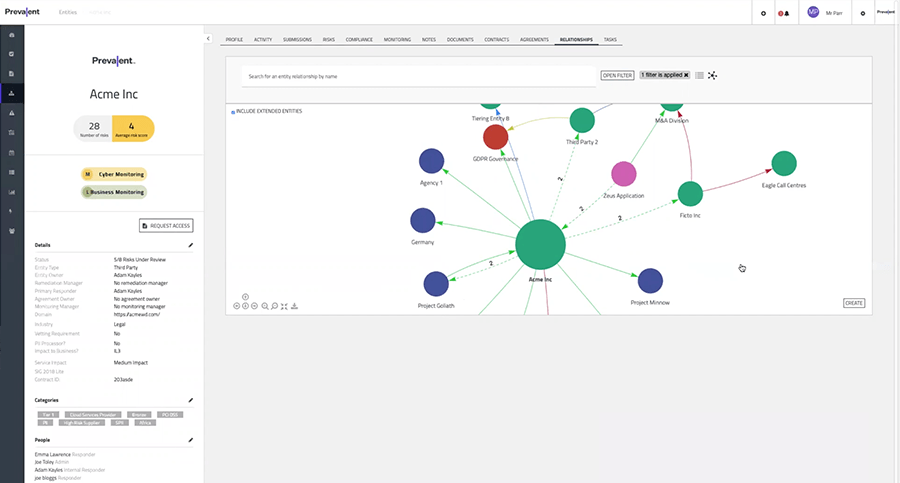 See where private data is, how it flows, who interacts with it, and how much risk it represents.
Speed Privacy Impact Assessments and Say Goodbye to Spreadsheets
Can you confidently identify what personal data your company processes and what controls are in place to protect it? Identifying risks to data privacy, evaluating the potential impact of these risks, and communicating remediation plans are hallmarks of privacy impact assessments.
Privacy impact assessments are typically sent to internal data/service/application owners and to external service providers handling privacy data. Unfortunately, the spreadsheet-driven approach used by most organizations is particularly prone to missing serious risks.
Prevalent automates the entire privacy risk assessment process with a centralized platform. The solution analyzes assessment findings to automatically create risks, provide business context, and share remediation recommendations. What's more, if you need assistance, our Vendor Risk Assessment Services can assist with distributing assessments, monitoring completion, verifying responses, and managing remediation workflows.
Deliver Greater Visibility and Efficiency to Privacy, Risk and Security Teams
Prevalent Privacy Jump Start is built to unify privacy, risk and security teams.
Data protection officers will identify who has access to what data and gain visibility into third-party data security risks.
Compliance/Audit/Risk teams will understand data privacy risks so they can prioritize assessments and a more automated and programmatic approach to compliance activities.
Vendor management teams will include privacy in broader vendor risk assessments, unifying risk management in a single solution for faster, easier assessments and reporting.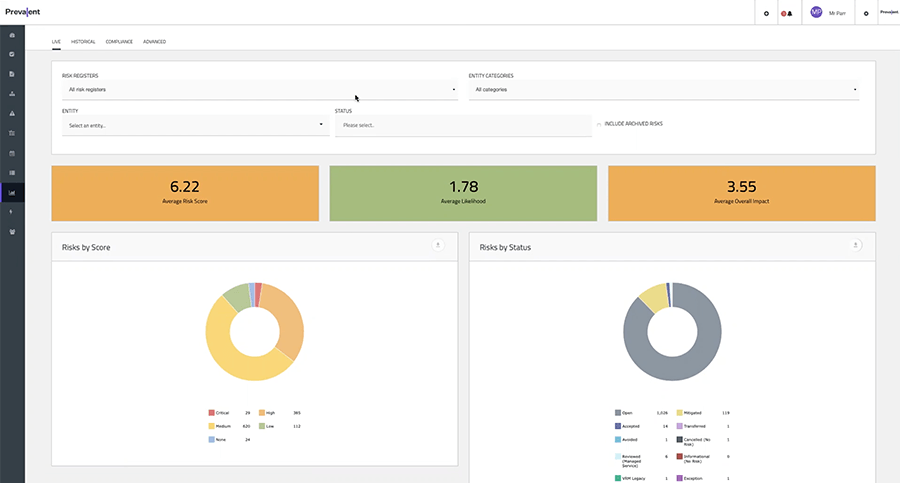 Generate targeted reports for regulators, vendors and internal stakeholders.
Take the Next Step Toward Privacy Compliance
Ready to get a jump start on your privacy impact assessments? See how easy it is to discover and assess data privacy risks by reading more on the Privacy Jump Start overview page and watching this brief video demonstration. Interested in seeing more? Request a personalized demo today!